Guesthouse Bed and Breakfast
Alpes Maritimes France




Country estate Villa l'Abricot
Breil sur Roya, France

Lat=43.9369598 (43°56'14"N) Long=7.5043032 (7°30'16"E)

---
Guesthouse Bed and Breakfast sleeps upto 8 persons
With 2 units each with separate entrance, and a large swimming pool, the Estate Villa is an ideal accommodation for a holiday vacation on the French Riviera in a mountainous nature area just 20 km from the beaches and just 15 km from Italy.

Area Zoom Map Breil sur Roya
The village of Breil sur Roya lies in south France 50 km NNE of Monte Carlo, Monaco.
The estate is close to the border of Italy, at 20 km from the coast and beaches of the Mediterranean sea, and 35 km from the excellent ski resort Limone Italy. It lies close to everything that the French and Italian Riviera has to offer.
There is a railway station at the village, with connection via Nice and Ventimiglia to Monaco and other international destinations.
Video visit of the property:
We offer guest accommodation in 2 units, an upstairs unit with independant access, and a separate annex-maisonette which also includes an equipped outdoor covered kitchen and pizza oven. There are chickens too (so fresh eggs every day!), and of course a large swimming pool with outdoor shower.
Each unit can sleep upto 4 persons.

For rental prices and accommodation details Click Here
The village borders communal forests and the Natural Reserve Park Mercantour with the Vallée des Merveilles, and has many mountain hike tracks, and massive old forts from WW2 built on mountain tops. Close by the medieval villages of Saorge, La Brigue, and Sospel. The river makes a good place for fishing trout.
The community encompasses the Maglia gorge, famous for canyoning visitors from around the world. Kayaking is also done on the rapids of the river Roya.
The property overlooks the village (15-20 minute walk to the village) and has many fruit, nut and olive trees. The main area is fenced (to keep children in and animals out) but the whole property extends into the adjoining forest. There is no through or passing traffic, only the sounds of nature.
| | |
| --- | --- |
| View of the village from the property | View main villa from roof maisonette/annex |
| View from main villa to property entry point | Main villa entry door |
| Swimming pool viewed from the villa | Swimming pool viewed towards the villa |
Beyond the pool, shade under thick foliage

View from main villa to the swimming pool




Swimming pool

View living room from the kitchen,
bottom left door to sleeping room,
top left internal window to top floor.
2 centre windows face towards the village


Living room main villa

Dining area and kitchen, middle right internal
window to sleeping room


Living room

Kitchen, middle window towards swimming
pool, left window to entrance area

Sleeping room, window to backside
(valley side)

Master bedroom, window to backside
(valley side)

Master bathroom, window to backside
(valley side)

Master bathroom taken from the bath,
round tiled shower on left

Far middle external stairs to upstairs

External stairs to upstairs


Upstairs bathroom with shower

Upstairs bedroom, on the left entry
door and fridge

Upstairs bedroom, window to backside
(valley side)

Upstairs bedroom, on the right internal
window

View of the annex from main villa
entry door

Annex, pizza oven (bottle shape) and
outside kitchen/barbecue on left


Annex bathroom

View from annex bedroom window
to main villa

Annex bedroom

Annex bedroom

Annex bedroom

Annex outside kitchen

View of annex and swimming pool
from main villa terrace

Property entry point (left), garage middle
left and chicken coup far middle


Chicken coup

View annex (left) and main villa (center)
from the chicken coup

Terrace

Maisonette/Annex

View on the Village

By the lake in the village

Village of Breil sur Roya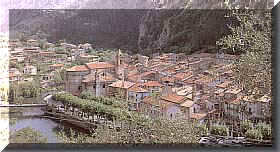 Information about the village and surroundings:
---